The gaming industry has undergone a considerable paradigm shift over the last decade. People love skill-based games, and incentivization is an added advantage that attracts them to such platforms. As a result, skill-based online games like Rummy have been experiencing a tremendous rise in recent years. Here's a representation of the journey which leads to the rising demand for the online rummy game.
Introduction to Online Rummy Game
Rummy is a card-based game that has been around for centuries now. The fabulous online card game has the number of variants played in various parts of the globe.
Although the origins of Rummy are covered in mystery, it's widely accepted that the game is evolved from another game called 'Conquian'. It is believed that the Spanish people invented it, and eventually, the game moved to America with Spanish migrants. 
The game of Rummy has a rich history in India and is a prominent part of several social gatherings and events in the country. Also, it can be found at various social clubs and land-based gambling venues in India, especially the rummy clubs, where its not only played using handy cards but also through rummy software installed into gaming machines. 
How multiplayer games are winning people's trust
Online multiplayer games have been proving to be hugely beneficial for card lovers as they bring together players belonging to different social backgrounds and regions of the country to a common platform. A few of the major factors that have helped online multiplayer rummy game applications to win players trust are easy accessibility, affordability, playability, and safety.
The initial element that decides any online games fate is how easily its users can access it. The affordability of smartphone devices has helped companies as well as gamers to get together. Furthermore, giving the option to download the apps for free has helped game operators to get more installations and gamers to experience new games without any investment. Also, with many applications available for almost every traditional game, the competition has increased multifold, and gamers have the option to enjoy different variants of each such game. 
As the race for more gamers started, playability became an important aspect for both gamers and developers. Attractive graphics, welcome bonuses, referral benefits, and gaming rewards amped the gaming experience and convinced them to shift from offline to online games quickly. 
With traditional gaming taking a backseat, online multiplayer games have become a rage across the globe. As a result, gaming enthusiasts have become easy to fulfil their entertainment needs from anywhere, anytime.
Rising Trends for Online Rummy
Data from Traffic Analytics reveals that the search interest for rummy was satisfactory between February 2016 and December 2019. But with the outbreak of the coronavirus pandemic, the popularity of rummy increased dramatically. In addition, due to the nationwide lockdown, people stay at home, and some are turning to game platforms to get rid of their boredom. As a result, these platforms are attracting numerous new visitors in online traffic.
Many land-based Rummy Clubs have switched to online platforms, and discounts and bundle offers are being promoted online by gaming companies and online gaming stores to encourage people to play online games. As per the statistics, between March and April 2020, the searches for Rummy experienced a whopping 230% increase. 
As for the interest by sub-region in India, Rummy is most preferred by players from Andhra Pradesh, Puducherry, Tamil Nadu, Telangana, Karnataka, Meghalaya, and Kerala. Speaking of worldwide trends, the game of rummy is getting increasingly popular in Maldives, Romania, Qatar, Canada, United States, UAE, and New Zealand. 
The Rapid Growth of Mobile Online Rummy Games
India is also the world's fastest-growing smartphone market, leading the way to the growth of mobile-compatible online games. The report by NASSCOM also states that the smartphone gaming percentage in India is growing at a CAGR of 40% to 50% and is expected to grow in the coming years. The growth in this segment has encouraged many gaming companies to focus on mobile compatible game development.
The majority of the online card game sites are mobile compatible. Which is an absolute delight for the gamers as there is no need to download and install the game. These lightweight mobile-compatible gaming websites can be directly accessed from mobile devices and can be played seamlessly even on a 2G connection.
Rummy game development companies strive to offer gamers a seamless real-time gaming experience even in slow Internet connections. Therefore, it is important to offer a perfect gaming platform, irrespective of the Internet speed, to succeed in the industry.
The Popularity of Online Rummy Games
With the advancement in technology, the game Rummy is now available for gamers to play online. Rummy players do not have to limit themselves to physical cards and tables; gamers can easily play them online whenever and wherever they want.
Online rummy sites normally offer rummy games under three variations: Pool Rummy, Points Rummy and Deals Rummy. With these sites, players can enjoy their favourite Rummy variants with millions of players around the world. Moreover, players can participate in various tournaments and leaderboard contests that come with amazing prizes.
Despite stiff competition from various online rummy gaming platforms, the rummy industry has grown rapidly in the last few years. According to a recent KPMG report, the Indian gaming revenue is expected to cross the 12000-crore mark by the end of 2023. Card gaming platforms like rummy sites and mobile applications are expected to be a major contributor to it.
[Figure: Online real rummy market size across India from 2015 to 2019, with an estimate for 2024]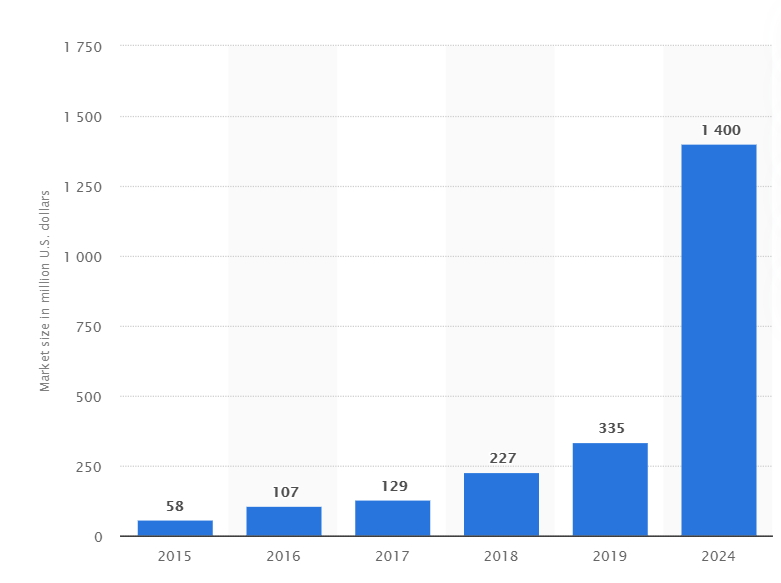 How to Start Online Rummy Game Business?
Are you looking to develop an online rummy game? But you have no idea how to convert your app plan into a big success. You might also think about how to hire rummy game developer and where to find app developers. So, here we will be talking about the essential tips of hiring a game developer.
Usually, there are three general hiring options available in the market from which you can easily pick your desired option- 
Mobzway Technologies is a world-class rummy game web and app development company. With the client base spread over 15 countries across the globe, Mobzway has successfully delivered numerous iGaming products to budding entrepreneurs and large-scale gaming ventures.
Our hired experts understand your business requirements and make sure that the built rummy software lets you achieve all your business goals. Once our team develops a solution for you, they do thorough testing to ensure spotless software is offered. In addition to this, we also offer round the clock technical assistance so that the solution works uninterruptedly.