Are you a bingo enthusiast looking for a change of pace or a new gaming experience? 
You're in luck! Bingo's popularity has led to several games with similar elements and gameplay, each offering its unique twist. In this blog, we'll introduce you to 10 games like bingo you must know in 2023. Whether you're an avid bingo player seeking variety or someone new to these games, we've got you covered.
Before we look into the list, we must recognize the thriving online bingo game market. In 2022, the online bingo market was valued at a substantial USD 1073.80 million, and it is projected to grow even further, reaching an estimated $1804.54 million by 2030. 
This remarkable growth, with a projected Compound Annual Growth Rate (CAGR) of 6.75%, highlights the enduring appeal of these games. 
Bingo: A Quick Overview
Bingo, cherished for its simplicity and excitement, has been a classic pastime since the 16th century and is now enjoyed globally. 
Here are some quick highlights:
Gameplay: Bingo is typically played with randomly generated numbers arranged on a grid. Players mark off these numbers on their cards as they are called out.
Variations: There are various versions of bingo, including the 75-ball and 90-ball variations. Each variant has its unique rules and winning patterns.
Interaction: Bingo is an enjoyable game to interact with people. It's usually played at bingo halls or over the internet. It's great because it makes you feel like you're a part of something. It can even be full of laughter and jokes.
Winning Patterns: To win, players must complete specific patterns on their cards, such as a straight line, diagonal, or even blackout (filling the entire card).
Random Chance: Luck plays a crucial role in bingo. The numbers are drawn randomly, making it accessible and enjoyable for players of all ages.
So, without further ado, let's explore ten exciting games similar to bingo.
10 Games Like Bingo That You Must Know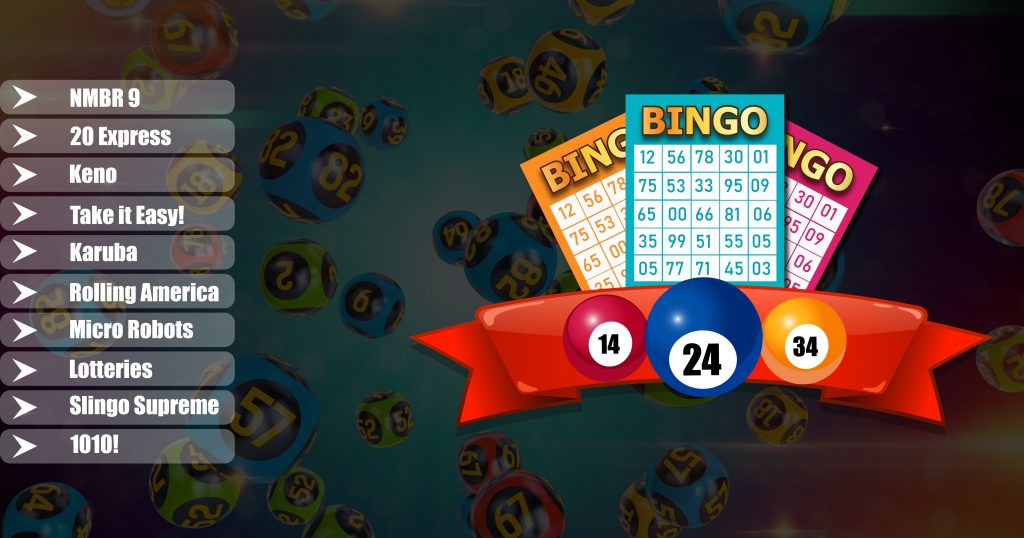 Keno
Keno is one of the popular bingo like games. Originating in ancient China around 200 BC, Keno has a long history. The name derives from the French word "quine," signifying five winning lottery numbers.
In modern Keno, players select numbers from a grid of 80 squares, and 20 numbers are randomly drawn. The game's simplicity and resemblance to bingo make it a popular alternative for those looking for a change of pace.
Lotteries
Lotteries have existed since the Han Dynasty in 200 BC and share historical ties with Keno. Drawing numbers and checking them against your tickets is similar to bingo.
The thrill of watching your numbers being drawn and the potential for big wins make lotteries a close cousin to bingo.
Scratch Cards
Another popular bingo like games. Scratch cards are a surprising addition to our list of bingo alternatives. These cards often feature bingo-style games where you scratch off winning numbers and aim to create patterns.
While not an obvious choice, scratch cards can provide a quick and enjoyable gaming experience like bingo.
Video Poker
If you appreciate bingo's simplicity and luck-based nature, video poker might be your cup of tea. Video poker gained widespread popularity as a casino game during the 1970s.
The goal in video poker is to get the best possible hand, and, like bingo, success hinges on your luck. It's a straightforward and engaging game that offers in-person and online variations.
NMBR 9
NMBR 9 is a tile-stacking game that shares similarities with bingo. Players aim to stack numbered tiles with cards drawn from a deck to build the tallest stack.
The game's strategic element and the challenge of maximizing your score make it an appealing alternative to traditional bingo.
Craps
Craps is one of bingo like games i.e dice game with a vital social aspect, much like bingo. People love bingo because they can interact with others. This is a significant reason for its appeal.
Instead of bingo cards, players place various bets on the outcome of dice rolls. Your winnings depend on your chosen chances and the results of the rolls.
You can also check: Bingo Software Development
Slots
Slot machines hold a prominent position as one of the most beloved casino games, with enduring popularity in both online and brick-and-mortar casinos. Surprisingly, many slots are inspired by or based on bingo themes.
Some bingo-themed slots feature bonus rounds where you play mini bingo-style games for the chance to win significant prizes.
20 Express
As the name suggests, 20 Express is a train-themed number game that shares similarities with bingo. Players manage a train with 20 carriages and draw from a bag of 40 numbered tiles.
The game revolves around assigning numbers to your carriages and building long chains to maximize your score. It's a multiplayer game suitable for any group size.
Take it Easy!
Take it Easy is another bingo-like game where a caller draws tiles, revealing numbers on 27 tiles. Players have boards with hexagonal black blocks that need to be filled.
The goal is to match numbered lines on your board, and scores are calculated by multiplying the numbers on the tiles by the total filled bars. It's an engaging and strategic alternative to traditional bingo.
You can also check: Casino Game Development
Karuba
Karuba is an adventure-themed game where players embark on a journey to the island of Karuba, encountering various challenges.
Players collect treasures and aim to find temples to earn their rewards. The game ends when all explorers reach their temples, or the final tile is drawn. For those tired of traditional bingo, these ten games provide many options. 
Whether you feel like testing your luck, want to use your brain muscles, or have a fun night with friends, there's something for everyone on this list. Thanks to the ever-changing online gaming industry, you can now enjoy all these games from the comfort of your home or while out and about. 
So, if you're ready to break the chains and explore a new world of gaming thrills, take a shot at one of these games.
Why Choose Mobzway to Develop a Game Like Bingo?
Regarding crafting exceptional board games, Mobzway is a leading game development company that excels in creating a wide array of custom board games. Whether you're eager to venture into the world of games like Bingo Blitz or Bingo Bash, look no further because we've got you covered! 
Read more about Best Fantasy App Like Dream 11 To Try
Join hands with Mobzway's expert designers and developers to bring your vision of an interactive, creative, and engaging bingo game application to life. 
When you choose Mobzway, you'll enjoy a host of advantages:
Affordable Solutions: Mobzway understands the value of cost-effectiveness. We offer budget-friendly solutions without compromising on the quality of your game. Your vision, your budget - we make it work.
Creative: At our core, we are masters of creating captivating UI/UX designs. We are passionate about weaving together visually striking elements with seamless, user-friendly interfaces. We aim to provide enjoyable gameplay while crafting an immersive, visually delightful experience with functional, aesthetically pleasing interfaces.
Expert Team of Developers: Our dedicated developers are seasoned in game development. They possess the expertise to turn your game concept into a reality, ensuring it's feature-rich and flawlessly functional.
Timely Delivery: At Mobzway, we understand the importance of delivering projects on time in the fast-paced gaming industry. We are fully committed to ensuring your project is completed according to schedule, allowing you to enter the market promptly. Time is of the essence, and we recognize the significance of meeting deadlines. 
FAQ's
What Are the Most Popular Games Like Bingo for Cash?
Mobzway can help you develop popular cash games like Slots, Soccer Pools, Rolling America, Scratch Cards, Lotteries, and Keno, tailored to your vision and requirements.
How Long Does It Take to Develop Games Like Bingo?
Mobzway's expertise ensures a streamlined development process, typically taking three to five months. However, we can adapt to the complexity of your project and deliver it promptly.
What Is the Cost to Develop Virtual Games Like Bingo?
Mobzway offers cost-effective solutions for developing bingo-like games. Basic features and functionalities generally fall within $20,000 to $25,000. For more intricate projects, our team can provide solutions within your budget, ensuring a successful outcome.
What Platforms Are Bingo-like Games Available On?
Mobzway excels in multi-platform game development, covering mobile devices (iOS and Android), web browsers, and social media, ensuring broad accessibility for your game.
Are There Social Features in Games Like Bingo?
Mobzway can integrate social features into your bingo-like game, such as chat rooms and multiplayer modes, fostering community and enhancing player engagement.
Can I Customize My Bingo Game with Unique Themes or Variations?
Mobzway offers complete customization options. You can infuse your bingo game with unique themes, variations, and personalized features to make it one-of-a-kind and perfectly tailored to your audience's preferences.